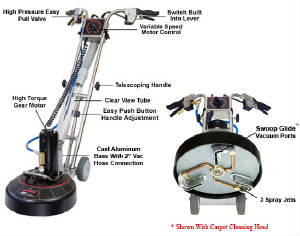 Most carpet cleaners today still use the old manual scrub wand method simply because it has been around for over 40 years. Using a manual wand requires a great deal of physical labor and only cleans from two directions, often producing only mediocre results. The manual wand is old technology that does not clean like our Rotovac 360i.

Providing good service means taking the time to listen. We will work with you every step of the way to make sure you receive the services you need. Our business is client-oriented, and we maintain strict confidentiality.

We hope you'll find the information you need on this site about our company and the products and services we provide. We look forward to working with you.